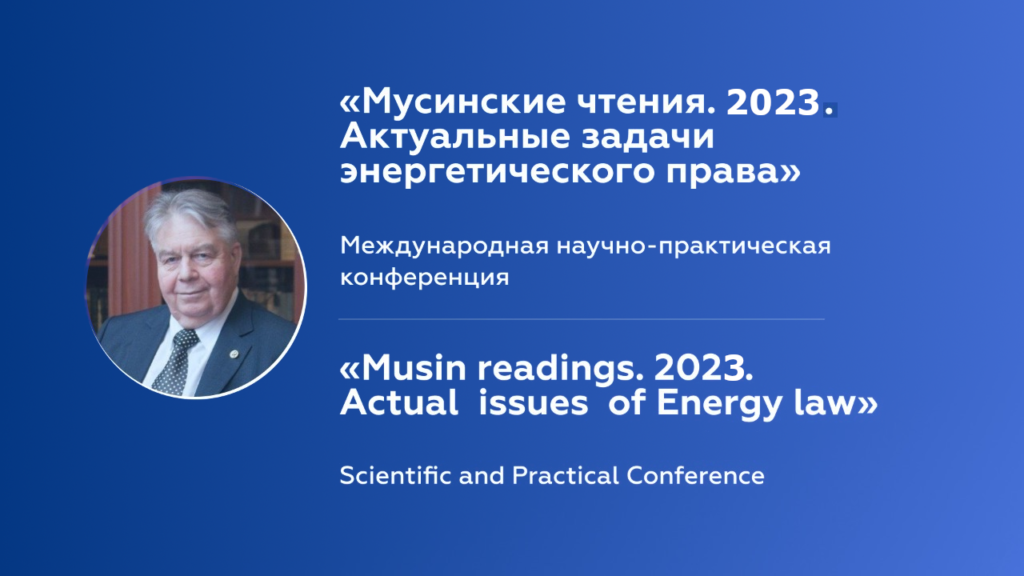 April 13, 2023 International Scientific and Practical Conference "Musin Readings. 2023. Actual tasks of energy law". The conference is attended by high-ranking and young scientists, energy specialists, practicing lawyers, representatives of government organizations, the judiciary, public organizations, graduate students, applicants.
Organizers of the event: ANO "Research Center for Energy Law and Development of Modern Science named after V.A. Musin", LLC "Gazprom VNII GAZ", Association of Lawyers of Russia.
The most topical issues of energy law at the present stage at the national and international levels are discussed, including possible trends in the formation of energy law of the Eurasian Economic Union, problematic aspects of international legal regulation in the field of energy; tasks of legal regulation of domestic energy markets: gas, oil, electric power; modern gas law; modern atomic law; special economic measures in the fuel and economic complex; modern corporate governance in energy companies; legal analysis of dispute resolution practices in the energy sector; trends in state regulation and control (supervision) in the energy sector and many others.
Applications for participation and abstracts are accepted until April 7, 2023 inclusive. Applications for participation and abstracts are sent to the following email address: musinlc@musinlc.ru
For any additional questions, you can contact the organizing committee of the event:
musinlc@musinlc.ru ; 8 (800) 600-36-43
The format of the event is remote. The link for participation will be sent on April 12, 2023.
We invite you to take part!